Skiing or Snowboarding?
How about 35 resorts within a one hour drive of a city of 350, 000 people? The mountains around Nagano receive 15 meters of snowfall on average and the resorts offer something for every ski and snowboard vacationer. Here is just a sample of the extraordinary ski areas Japan has to offer.
Myoko Suginohara
Myoko Suginohara Ski Area is a medium sized gem of a ski hill 45 minutes drive from Nagano City. This area is a fantastic place to come for a ski vacation. Why? The number one reason has to be the snow. The snow is so abundant and the temperature is just right. The skiing is of a very high quality. There is rarely any hard pack underneath. It is always soft. It is one of the reasons locals here keep skiing like youngsters well into their 70s.
The terrain at Suginohara is excellent. It is varied; long and gentle or steep and deep. The back woods are where you can really find your ski epiphany. The gondola run is where you can find your racing edge. The high speed lift number two is where you can go from beginner to intermediate. The hill is so wide, just right for lessons and for practice. A new gondola in 1997 is state of the art and whisks you to the top in just 10 minutes. Plenty of on slope restaurants serve up delicious fare.
We call this area the heart and soul of skiing. Why? Because it has such good snow and what else is there to good skiing or snowboarding if there is not good snow.
For more information visit www.princehotels.co.jp/ski/myoko
Nozawa Onsen
Nozawa Onsen is a fantastic ski area just one hour's drive from Nagano City and features a great variety of terrain and that amazing snow that's hard to match. It also has something that is hard to match for most ski areas in the area – a great town. Nozawa is a well-known hot spring resort town with many baths, restaurants and shops just at the foot of the ski area. It aso has a big ndoor pool with river pool and waterslide, ideal for children who are looking for great après ski activities. It's the European ambiance and great après ski which sets Nozawa apart from other areas.
The ski area itself is world class. From top to bottom, Nozawa offers ridge runs with great views, steep fall lines and wide open beginner slopes. If you venture into the trees you will find the steeps and deeps that are guaranteed to keep you coming back for more. The state of the art Nagasaka Gondola takes you up to the highlands where you can soon find challenges to meet or improve on your level of ability. The ski area has a peaceful feeling and many lifts so it never seems crowded. Restaurants abound on the hill and in the town.
The combination of a great town and a great ski hill make Nozawa an ideal choice for trip to Japan.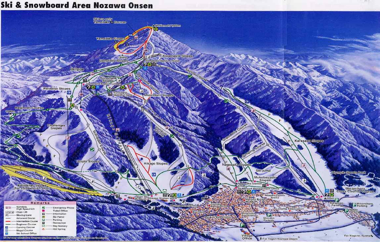 For more information visit www.nozawaski.com
Akakura
Akakura is a 50 minute drive from Nagano City. It's located on the slopes of beautiful Mount Myoko in the Niigata prefecture. The ski area features a lot of glade skiing and is geared more towards beginners and intermediates but there is some expert terrain higher up. Cruising on the expertly groomed corduroy slopes off the gondola and the top lifts is a must experience here. Again, the snow quality comes through in spades. The snow is more abundant here as it is closer to the Sea of Japan. Think quality of snow over steepness here.
The town is bustling with a thoroughfare of shops, bars and restaurants and a hopping après ski scene. Night skiing is available for those who can't get enough during the day. Akakura hotels feature great hot springs to take away any aches from the days of skiing and nearby Joetsu offers excellent seafood.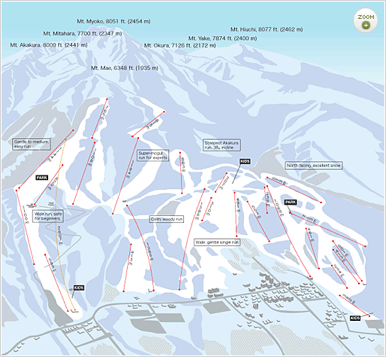 For more information visit www.akrski.com/english